What makes a great Life Coach?
So, what makes a great Life Coach? We believe it is someone who is open-minded, non-judgemental, and passionate about helping others lead full and rewarding lives. Someone with great enthusiasm for helping others make positive changes in their life. Someone who knows how it feels to be unhappy, lonely, stressed, ill, depressed and knows how to overcome it. Someone with great empathy, a great sense of humour and great 'people' skills. Someone who knows how to make change happen and cannot wait to share this knowledge with you and help you to do the same!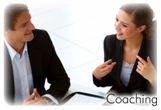 As a Life Coach, we look forward to sharing our skills and expertise in these areas with you and we cannot wait to start working with you to help you achieve balance, purpose and happiness in your life.
Thank you for your interest and we look forward to working with you and helping you achieve all that you desire in your life.